Brandon Noel | Editor, Asphalt Contractor and Pavement Maintenance & Reconstruction
The "Inflation Reduction Act of 2022" includes several climate and transportation-related funding measures, with a series of proposed grants and tax credits aimed at alternative vehicle purchases and environmental review processes for infrastructure
Your crew deserves a FREE lunch!

How would your crew like to be recognized by Asphalt Contractor and Vögele? Submit a photo of your Vögele paver in action for a chance to get a free lunch and Vögele swag for your crew! One hardworking crew will be selected each month and the sooner you enter, the more chances you have to win!

Submit your Vögele photos by August 31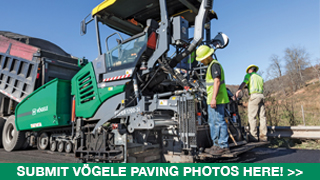 Your crew deserves a FREE lunch!
How would your crew like to be recognized by Asphalt Contractor and Vögele? Submit a photo of your Vögele paver in action for a chance to get a free lunch and Vögele swag for your crew! One hardworking crew will be selected each month and the sooner you enter, the more chances you have to win!
Submit your Vögele photos by August 31
Download this comprehensive infographic for a quick overview of 11 maintenance checks for your asphalt paver, and then print the expanded walkaround checklist for your operator's use before each paving job.
The House passed the FY2023 Transportation Funding Legislation which would provide $4.57 billion in multimodal capital investment to the U.S. Department of Transportation for FY23. Senate up next to pass funding.
E-SMART's tiny dashboard cameras are mounted in trucks and use artificial intelligence (AI) to read highway construction signs. These cameras dynamically reduce the truck's speed for safety.
Construction companies know that the industry's future is digital, but there is a widespread struggle to create employee buy-in around technology solutions.