Jessica Lombardo | Editor-in-Chief |

ForConstructionPros.com
The slower months of the year allow time to investigate ways to run your business better
Keep Workers Safe on Infrastructure Projects

As construction workers rebuild America's infrastructure, it's crucial they stay safe on the job. CPWR – The Center for Construction Research and Training has FREE RESOURCES to help. Find tools to plan ahead, train workers, adopt best practices and solutions, and keep up with industry trends.

Learn More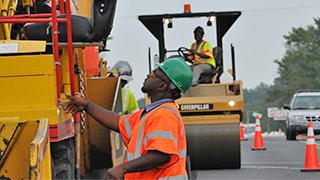 Keep Workers Safe on Infrastructure Projects
As construction workers rebuild America's infrastructure, it's crucial they stay safe on the job. CPWR – The Center for Construction Research and Training has FREE RESOURCES to help. Find tools to plan ahead, train workers, adopt best practices and solutions, and keep up with industry trends.
Learn More
Plan for success by building a partnership that helps navigate regulatory complexities, understand the requirements of grant funding and make safety, communication and sustainability the cornerstone of the project.
Bridge cable corrosion can be devastating to the integrity of a bridge over time. It's imperative that stakeholders perform regular testing and inspection to mitigate disaster
There is a clear technology gap that needs to be filled in order for autonomous vehicles to maneuver through cities all over the world
With visible safety protocols like reflective clothing and traffic routing or safety practices for operating equipment, don't overlook the 1,500-pound safety concern: the crushing injuries from a manhole or utility vault cover.