Jessica Lombardo | Editor-in-Chief |

ForConstructionPros.com
Industry associations fear that expansion of the provisions will likely lead to even higher project costs as contractors incorporate risk associated with their newfound unilateral responsibilities for Buy America compliance into the pricing of their bids
Keep Workers Safe on Infrastructure Projects

As construction workers rebuild America's infrastructure, it's crucial they stay safe on the job. CPWR – The Center for Construction Research and Training has FREE RESOURCES to help. Find tools to plan ahead, train workers, adopt best practices and solutions, and keep up with industry trends.

Learn More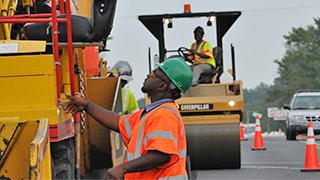 Keep Workers Safe on Infrastructure Projects
As construction workers rebuild America's infrastructure, it's crucial they stay safe on the job. CPWR – The Center for Construction Research and Training has FREE RESOURCES to help. Find tools to plan ahead, train workers, adopt best practices and solutions, and keep up with industry trends.
Learn More
Become a better buyer with IRONPROS, a destination site for expert-grade buyers' insights, research and comparison.
There are few purchases more essential than a screed. The experts at Curb Roller offer an overview on how to carefully consider the screed types available to maximize ROI when purchasing this crucial equipment.
Investing in new an asphalt plant? These tips can help you find the best match.
The Inflation Reduction Act sets aside $369 billion for sustainable innovation and infrastructure. As we witness major climate events taking place around the world, and here in the United States, how should the industry be ahead of the coming changes?