Jessica Lombardo | Editor-in-Chief |

ForConstructionPros.com
The awards, totaling more than $2.2 billion, are the first from funding in the 2021 law for what are called RAISE grants, for Rebuilding American Infrastructure with Sustainability and Equity
Keep Workers Safe on Infrastructure Projects

As construction workers rebuild America's infrastructure, it's crucial they stay safe on the job. CPWR – The Center for Construction Research and Training has FREE RESOURCES to help. Find tools to plan ahead, train workers, adopt best practices and solutions, and keep up with industry trends.

Learn More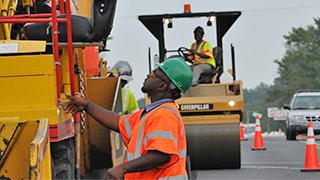 Keep Workers Safe on Infrastructure Projects
As construction workers rebuild America's infrastructure, it's crucial they stay safe on the job. CPWR – The Center for Construction Research and Training has FREE RESOURCES to help. Find tools to plan ahead, train workers, adopt best practices and solutions, and keep up with industry trends.
Learn More
As the Bipartisan Infrastructure bill inches closer and closer to becoming law, the flow of new changes and mandates continues to trickle out of Washington.
An ACT Research analysis of the North American commercial vehicle market shows improvement, reflecting better-than-expected production in June. 2023 is expected to be a good year, the report states.
Within the context of construction fleets, crashes happen for many reasons. The most frequent cause of construction-related accidents is distracted driving, a bad habit the National Coalition for Safer Roads' Stop on Red Week aims to mitigate.
Optimize your next construction project's success with BIM and field technologies. Let's take closer look at how contractors are using advanced 3D models, 3D scanning, and mixed or augmented reality on the modern (and tomorrow's) construction jobsite.