Jessica Lombardo | Editor-in-Chief |

ForConstructionPros.com
The "Inflation Reduction Act of 2022" includes several climate and transportation-related funding measures, with a series of proposed grants and tax credits aimed at alternative vehicle purchases and environmental review processes for infrastructure
Keep Workers Safe on Infrastructure Projects

As construction workers rebuild America's infrastructure, it's crucial they stay safe on the job. CPWR – The Center for Construction Research and Training has FREE RESOURCES to help. Find tools to plan ahead, train workers, adopt best practices and solutions, and keep up with industry trends.

Learn More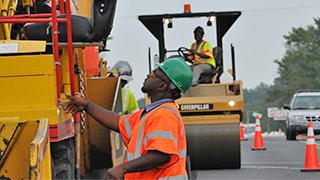 Keep Workers Safe on Infrastructure Projects
As construction workers rebuild America's infrastructure, it's crucial they stay safe on the job. CPWR – The Center for Construction Research and Training has FREE RESOURCES to help. Find tools to plan ahead, train workers, adopt best practices and solutions, and keep up with industry trends.
Learn More
Construction job openings fell by 71,000 in June, to 334,000, according to an Associated Builders and Contractors analysis of U.S. Bureau of Labor Statistics' Job Opening and Labor Turnover Survey data - revealing early signs of a slowing market
The construction industry is experiencing an unprecedented level of market volatility across several supply chain categories, including copper, resin, logistics, vehicles, steel and more.
Ramtech published construction safety insights and analysis in a new paper, which highlights NFPA 241.
As California plans to ban the sales of new propane and diesel-powered trucks starting in 2026, it has already introduced an incentive program for switching to zero-emission forklifts in 2022.