Powered By

The factors and considerations concrete contractors should be aware of for placing concrete in cold weather
The Best Construction Specific Solutions FOR YOU

Through IRONPROS, we have developed a quiz that pinpoints the construction specific solutions that will work best for you and your business. All it takes is a few minutes, and the insights to improve workflow, increase ROI and strengthen productivity are yours!

Take the Quiz >>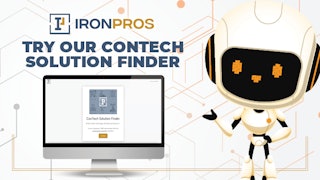 The Best Construction Specific Solutions FOR YOU
Through IRONPROS, we have developed a quiz that pinpoints the construction specific solutions that will work best for you and your business. All it takes is a few minutes, and the insights to improve workflow, increase ROI and strengthen productivity are yours!
Take the Quiz >>
From planers and descalers to rock drills, saws and shotcrete guns, a demolition robot can become a true multi-purpose machine that opens up new revenue opportunities and speeds up ROI.
Concrete Contractor Top Products
Thousands of products, tools, equipment, and machines are all designed to help concrete contractors, there are a few that stand out above the rest for innovation and benefits. Deadline EXTENDED to Feb. 20, 2023
What do chocolate mudcake recipes, industrialized construction, design for manufacture and assembly (DFMA) and artificial intelligence (AI) have in common? They hold the key to productization of construction.
The Occupational Safety and Health Administration (OSHA) recently announced its preliminary list of the 10 most frequently cited safety violations from the 2022 fiscal year.