Jonathan Kozlowski | Editor |

Concrete Contractor
TyBOT from Advanced Construction Robotics helps Shelby Erectors boost margin and improve the project owner experience—next, IronBOT to speed things up even more
QUIKRETE® 5000 Concrete Mix

QUIKRETE® 5000 Concrete Mix is suitable for any concrete use requiring high early strength and rapid strength gains. It sets quickly, making it ideal for cold weather applications and has a walk-on time of 10 - 12 hours. Use it for any application requiring concrete in a minimum thickness of 2".

Learn More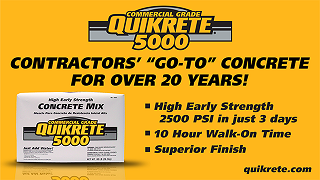 QUIKRETE® 5000 Concrete Mix
QUIKRETE® 5000 Concrete Mix is suitable for any concrete use requiring high early strength and rapid strength gains. It sets quickly, making it ideal for cold weather applications and has a walk-on time of 10 - 12 hours. Use it for any application requiring concrete in a minimum thickness of 2".
Learn More
Understanding the difference between concrete dyes, stains and pigments is essential when deciding which to use for colored concrete. Use this high value asset infographic to make the correct decision.
The U.S. construction and engineering sector is about to enter a time of infrastructure boom as the IIJA provides a $1 trillion plus revenue opportunity for U.S. construction and engineering contractors to take on infrastructure projects.
The growing awareness of climate change has made consumers more aware of what companies are doing to reduce or eliminate their carbon footprints.
The Mosul Dam Rehabilitation Project, in Iraq, submitted by Trevi, S.p.A., service foundation division of Trevi Group has been awarded the 2022 Outstanding Project Award by the Deep Foundations Institute.