Jonathan Kozlowski | Editor |

Concrete Contractor
Are you a great boss in construction? Do you know one? Nominations for our inaugural Best Contractors to Work for in Construction award is now open! The winners will receive global acclaim when published online at ForConstructionPros.com and in print. Deadline to enter is July 1. (There is no cost to enter.)
Quikrete Fast Setting (Red Bag) Concrete

The famous Red Bag is a special blend of fast-setting cements, sand and gravel designed to set hard in 20 to 40 minutes. When used to set posts there's no mixing required; it's also ideal for pouring slabs, patios, sidewalks and more.

Learn More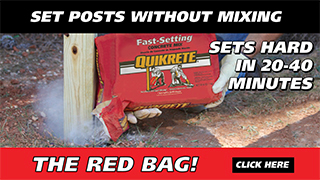 Quikrete Fast Setting (Red Bag) Concrete
The famous Red Bag is a special blend of fast-setting cements, sand and gravel designed to set hard in 20 to 40 minutes. When used to set posts there's no mixing required; it's also ideal for pouring slabs, patios, sidewalks and more.
Learn More
Whether you're just starting out in the industry or are a seasoned professional, this infographic provides the at-a-glance ability to quickly understand the importance of ground-penetrating radar and its applications in concrete work.
Michael Cheng was named to the newly created role of Editor – Construction Equipment & Product for AC Business Media, tasked with overseeing the day-to-day operations of a new digital platform launch in conjunction with the ForConstructionPros.com site.
This episode of the Digging Deeper podcast features Integrated Roadways. They embed sensors inside precast slabs of materials to help create a network that will support the current and future needs of drivers, owners, vehicles, and devices - putting a high-tech solution into the hands of concrete contractors building tomorrow's roads.
United Cement Group consistently implements programs to reduce emissions into the air and gradually transit to ESG-oriented investments. Here are three examples of cement plants increasing efficiency and reducing air pollution in Central Asia.