| | | |
| --- | --- | --- |
| Powered By: | | |
Break the mold. Even your own.

NEVER IDLE. We showed off new features, cabs, and fleet power in Vegas this year. But we're never finished. When we decided to make our new excavators, R&D used best-in-class production benchmarks as the numbers to beat. These all-Deere machines prove we're all in — you deserve it, and we won't settle for less.

LOOK INTO THE FUTURE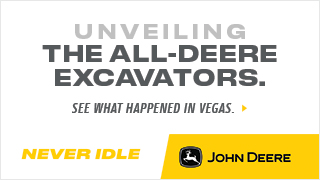 Break the mold. Even your own.
NEVER IDLE. We showed off new features, cabs, and fleet power in Vegas this year. But we're never finished. When we decided to make our new excavators, R&D used best-in-class production benchmarks as the numbers to beat. These all-Deere machines prove we're all in — you deserve it, and we won't settle for less.
LOOK INTO THE FUTURE
Don't replace your older generation Caterpillar machine just yet. The company has several new backwards compatible solutions that can help you get the most out of your equipment.
Find and compare wheel loaders from leading brands, such as Caterpillar, JCB, Komatsu and Bobcat, for your construction project on IRONPROS. We have a full selection for you to browse through and view!
Looking for construction hardware and software technology solutions for your business? Hilti has both, specializing in wireless, connected and digital products for increasing productivity and safety on the jobsite.
This construction CRM vendor unites a high-touch approach and modern cloud software to help contractors build and manage pipeline and revenue.
Worksites are filled with slippery and uneven surfaces. This selection of durable Ariat boots will increase your comfort and safety on the job.
Your eyes need all the protection they can get on construction sites. Check out this selection of heavy-duty safety glasses for eye protection.