| | | |
| --- | --- | --- |
| Powered By: | | |
The Best Construction Specific Solutions FOR YOU

Through IRONPROS, we have developed a quiz that pinpoints the construction specific solutions that will work best for you and your business. All it takes is a few minutes, and the insights to improve workflow, increase ROI and strengthen productivity are yours!

Take the Quiz >>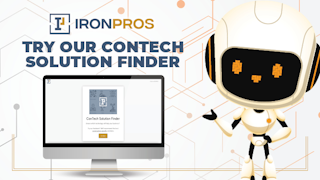 The Best Construction Specific Solutions FOR YOU
Through IRONPROS, we have developed a quiz that pinpoints the construction specific solutions that will work best for you and your business. All it takes is a few minutes, and the insights to improve workflow, increase ROI and strengthen productivity are yours!
Take the Quiz >>
Use this equipment financing calculator to get INSTANT estimates based on your funding requirements. Same-day funding with top-rated business lender Balboa Capital is available (based on eligibility and approval).
The American Concrete Pavement Association released a white paper compiling research around how concrete pavement is uniquely suited for building sustainable road surfaces.
A deep discussion of how Splash Modular/Slate Technologies facilitates decision support for designers and generals involved in modular construction.
What technology for sustainable concrete is coming to market for manufacturers, producers, specifiers and contractors?
To protect your legs this summer, consider purchasing one of these work pants. This selection of work pants is breathable and light, helping minimize sweat on the jobsite.
Cargo work pants are extremely functional for construction work, allowing you to store tools and small items with ease. If you're looking for reliable, tried-and-tested workwear, check out cargo pants.