| | | |
| --- | --- | --- |
| Powered By: | | |
Digging Into the Industry

This podcast covers all aspects of the construction industry with a variety of influential business owners and Cat® Experts. Topics include: equipment operation, safety, business management, technology and labor issues, but also digs deep into niche markets like concrete, rental and asphalt.

Stream now>>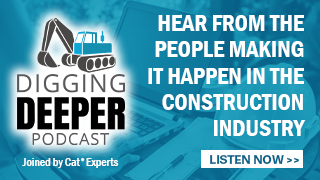 Digging Into the Industry
This podcast covers all aspects of the construction industry with a variety of influential business owners and Cat® Experts. Topics include: equipment operation, safety, business management, technology and labor issues, but also digs deep into niche markets like concrete, rental and asphalt.
Stream now>>
Caterpillar showcases its plans to bring semi-autonomous functionality to CTLs in rugged construction sites.
Thousands of products, tools, equipment, and machines are all designed to help concrete contractors, there are a few that stand out above the rest for innovation and benefits. Deadline EXTENDED to Feb. 20, 2023.
Find out why independence and modernity may help Agave grow its iPaaS for Construction, connecting digital construction workflows in this IronPros Deep Dive.
Sage Field Operations represents a double threat, offering a single platform for field service management and construction field productivity software, all backed up by ERP from the #3 player on the global stage.
Don't let freezing weather stop you from doing your job on construction sites. Keep your feet warm with these heavy-duty wool socks.
It's beanie season for construction pros. These days, there are numerous choices available for keeping your head and ears warm while working in cold temperatures.