| | | |
| --- | --- | --- |
| Powered By: | | |
Don't let hidden costs undermine your bottom line.

Significantly reduce hidden fuel and service costs associated with skilled operators and unnecessary overtime with a fuel and service trailer from Thunder Creek Equipment. This faster, No-HAZMAT solution keeps your jobsite running smoothly with bulk fuel at your fingertips.

Learn More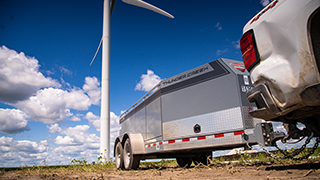 Don't let hidden costs undermine your bottom line.
Significantly reduce hidden fuel and service costs associated with skilled operators and unnecessary overtime with a fuel and service trailer from Thunder Creek Equipment. This faster, No-HAZMAT solution keeps your jobsite running smoothly with bulk fuel at your fingertips.
Learn More
Cat unveiled its first four electric construction machines at Bauma 2022. Here's what you need to know.
This no-code application for citizen-developers is launching pre-populated content to shorten time to value for construction contractor digital workflows.
In a story that will likely be repeated many times across construction technology, Avvir joins Hexagon as its competitor, Faro, also grows by acquisition in construction photogrammetry.
The best welding pants are 100% cotton. This type of work pants must offer flame resistant protection for safety, as welders are exposed to electrical arcs, flashes and flames on a regular basis.
Recent developments in head injury research suggests that it's time to upgrade the clunky, traditional construction helmet. Spearheading the movement to redesign the traditional construction helmet is WaveCel.