Powered By

The Best Construction Specific Solutions FOR YOU

Through IRONPROS, we have developed a quiz that pinpoints the construction specific solutions that will work best for you and your business. All it takes is a few minutes, and the insights to improve workflow, increase ROI and strengthen productivity are yours!

Take the Quiz >>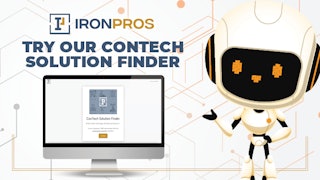 The Best Construction Specific Solutions FOR YOU
Through IRONPROS, we have developed a quiz that pinpoints the construction specific solutions that will work best for you and your business. All it takes is a few minutes, and the insights to improve workflow, increase ROI and strengthen productivity are yours!
Take the Quiz >>
The Toro e-Dingo 500 made its debut at World of Concrete 2023. The new model has a new design and battery power system.
An ingenious new control system on the Link-Belt 220 X4S combines pilot control feel with E/H customization. In this video we go up close with the new machine and talk with Adam Woods about its development. Check it out.
For safety, comfort and durability, consider purchasing these 100% cotton welding pants.
Mips CEO Max Strandwitz discusses the design process in developing Mips technology for safety helmets and its applications in the construction sector.
IRONPROS Technology Editor Charles Rathmann provides a quick analysis of where construction automation and robotics sit right now, and how you can use them to create value in your contracting business.
This Danish software and hardware technology has a compelling vision of the future--but what does it mean for construction fleets in the present?