| | | |
| --- | --- | --- |
| Powered By: | | |
Breaking Ground - Ironpros
KATO Does it Again!!

The all-new V5 Generation Zero Tail Swing Mini Excavator is named a 2022 Contractor's Top 50 New Products showcasing ultimate comfort, productivity, and power.

Read More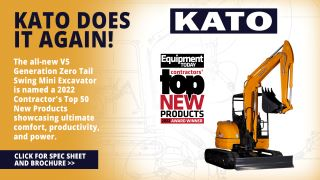 KATO Does it Again!!
The all-new V5 Generation Zero Tail Swing Mini Excavator is named a 2022 Contractor's Top 50 New Products showcasing ultimate comfort, productivity, and power.
Read More
Construction Drone Software Guide
Check out the IRONPROS drone software guide for construction projects. Learn about your options for deploying, managing and controlling drones in outdoor worksites.